Last updated on February 15, 2021
Disclosure: This page contains affiliate links. If you click through and purchase an item, we may earn a commission. See our terms of service for details.
Although there are hundreds of digital currencies, only a handful receive significant attention and trading volumes, such as Bitcoin and Tether. That's where Paxful fits in perfectly.
Paxful is changing how the world moves money by enabling crypto transactions and processing transfers 24/7 with anyone and anywhere. It's a leading peer-to-peer (P2P) cryptocurrency marketplace. Its mission is social justice through financial freedom worldwide.
Don't have a bank account? No problem. Paxful has over 350 payment methods to choose from, making it easy for you to move money the way you want. These options empower both sellers and buyers, creating opportunities for millions worldwide who don't have access to traditional banking services.
Company Profile
Founded by Ray Youssef and Artur Schaback in 2015
CEO: Ray Youssef
Headquarters: New York, USA
5M+ users
Available in 100+ countries
300+ employees
The website is available in 20+ languages.
Products & Services
Buy/sell Bitcoin and Tether.
Get a free Paxful wallet to secure and manage your money.
Become a vendor and generate income by selling your bitcoins. Create offers, set profit margins, and build unique customer experiences to increase your profits.
Take your business global and accept payments from an ever-growing list of methods to expand into new countries and markets.
Create a virtual kiosk to help fund your customers' accounts with bitcoin.
Leverage Paxful's API for widgets, payments, data, and more.
Get insights, tutorials, stories, webinars, and more on Paxful's blog.
Paxful Affiliate Program
Paxful has an affiliate program. It uses in-house software and is self-hosted. Let's review the benefits, drawbacks, commission rate, cookie duration, and program details. Here's a snapshot.
Cost per action (CPA): Cost per transaction
Commission rate: 50%
Commission type: Recurring
Cookie duration: Lifetime
Payout threshold: $10
Payment options: Paxful wallet
Affiliate software/network: In-house
Program Benefits
Paxful's affiliate landing page is excellent. An affiliate landing page is supposed to be informative, and Paxful includes critical details and an FAQ.
Paxful offers a high-paying affiliate program. When new users sign up through your affiliate link, you'll earn 50 percent of the escrow fee each time they buy cryptos. When your referrals convert other users, you'll receive an additional 10 percent from their fees. Paxful's two-tier sub-affiliate commission structure is among the best in the crypto space.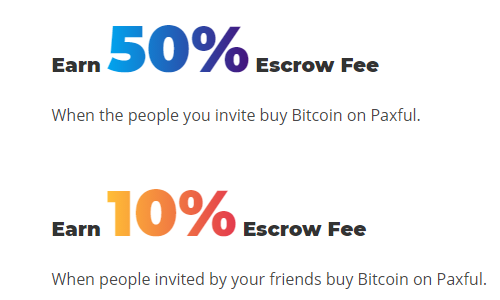 The commission payment threshold is low. Once you've earned at least 10 USD worth of Bitcoin, you can cash out your earnings to your Paxful wallet anytime you want.
Deep linking is available, and it's how an affiliate creates a link to a specific page on the merchant's site. Instead of using a standard homepage affiliate link, you can link to an article or product related to your content to increase relevance and conversion rates. You must manually create a deep link by adding your affiliate ID to the URL you want to promote/share.
Invite new users with your affiliate QR code. That's unique and something I haven't seen before.
There's a full-time affiliate marketing manager. When a merchant has the staff to support publishers, it quickens processes and shows commitment. On the flip side, it isn't clear how to contact Paxful for affiliate support. The listing of a dedicated email address would help.
The in-house affiliate marketing software is above average. In-house software can be hit or miss. Paxful gets a lot of things right with its affiliate dashboard. However, it would be beneficial to show click and conversion rate statistics from an affiliate's link.
Get more benefits as a Paxful Peer. Peers are a new wave of entrepreneurs who commit to supporting and promoting the Paxful platform in various ways. They are passionate people who dedicate themselves to expanding financial freedom through building Paxful communities globally. There are three membership levels, including Peer, Ambassador, and Associate. Benefits include swag, VIP support, badges, event invites, referral bonuses, monthly compensation, and more.
Paxful is a reputable company. Although some users complain about getting scammed, that's the nature of marketplaces, including eBay, Wish, and Amazon. Paxful provides user/seller profiles featuring feedback scores to make informed trading decisions to encourage fair dealings. Additionally, Paxful's fees are low, transparent, and competitive. I have no reservations about sending traffic to its platform.
Program Drawbacks
There are no marketing materials or ad banners. While not a deal-breaker, Paxful could offer creative materials in different sizes and languages for its target markets.
Like most crypto exchanges, Paxful charges fees when you transfer money out (including your affiliate earnings). That automatically reduces your commissions. By contrast, most affiliate marketing apps and programs enable a way to receive commissions cost-free, for example, accepting payments via PayPal or a bank account. Hopefully, Paxful adds a payment option so that affiliates can get 100 percent of their commissions.
Making Money
Can you make $1,000 a month as a Paxful affiliate? You can and more. Paxful's high commission rate and two-tier earning structure make for a lucrative program. The Peer program offers even more opportunities for income and benefits for Paxful/crypto enthusiasts.
Where should Paxful rank in your marketing activities? If you cover digital currencies, forex, money, investments, or anything related, Paxful should be a medium to high priority. Although only having two cryptos limits marketing opportunities, Bitcoin and Tether are in high demand among traders and investors. Also, bitcoin trading volumes far exceed that of other popular digital currencies.
I recommend joining Paxful's affiliate program because it's a top crypto exchange, and I've made money with it. Furthermore, it's a Digital Fodder top 40 affiliate program and cryptocurrency program.
Super Affiliate Marketing Course: Learn How I Built a Five-Figure Website